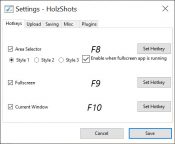 HolzShots is a powerful and intuitive screenshot utility tool for creating impressive and useful screenshots you can upload and share. This application is for those who need to make several screenshots throughout the day.
It will take care of all of the screenshots that you take, including the ability to process and edit the screenshots easily.
With its impressive array of features, the app is a must for everyone who needs screenshots often. The application's main features are screenshot capturing, screenshot processing, and uploading. The powerful and intuitive editor improves everything.
It offers several customization options, making it appropriate even for advanced users.
Three Types of Screenshots
You can take three main screenshots: full-screen captures, current window screenshots, or only partial shots of particular areas. Everything is made simple with hotkeys that you can customize to your needs.
To take screenshots with the capture mode, left-click on a particular area and then right-click and drag the screenshot to where you need it. With the spacebar button, you can magnify the screenshot if needed.
Powerful Screenshot Editing
Once you've taken the screenshot, you can edit and tailor it to your needs. The powerful editor allows you to crop the image, adjust its brightness, and blur certain screenshot areas.
There are also various freehand drawing tools and additional text functions. You can insert custom text, add shapes, and customize the screenshot your preferred way.
These tools are easy to use, although not every screenshot tool has them.
Quick Sharing and Uploading
Once you're done with the editing, you can easily upload or share the screenshot. You can upload it to DirectUpload.net or generate a link code, HTML code, or BBCode. You can also store the screenshot on your local computer if you want to.
HolzShots is an all-in-one screenshot tool that allows you to easily capture, edit, upload, and share your screenshots. It's easy to use and has an intuitive platform, making it a good option for people who need to take screenshots often.