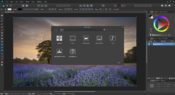 Affinity Designer will help you edit and improve your images' look by retouching them and improving the quality by changing and editing colors, manipulating lighting, and more.
It is one of the more well-known image editing tools. It is a professional-grade editing tool with everything you need in its locker to help you create great edits.
It's also decent for beginners because it has some basic editing tools to complement the more advanced ones.
Personas for Editing
Affinity Designer is quite easy to use once you understand how it works. It will work on the base of Personas, virtual workspaces you can select for each image you edit. These personas will depend on what goals you have for your particular photos and what you want to achieve with them.
Depending on what Persona you choose, you'll see that each will offer slightly different editing tools. When you first open up this app, the default persona will be the Drawing Persona. You'll have all the vector tools with this one.
Then there's also the Pixel Persona, which will add pixel editing tools, and Export Persona, which is great for exporting files.
Using brushwork, adding shapes and text to your desired style is also possible through this utility. Printing the end design and exporting it to share with other users is also part of the application.
So, you cannot only create beautiful graphical designs, and you can even export them in high quality.
Advanced Editing Tools
You'll be presented with many different editing options based on which Persona you select. You can open an image and start retouching it, for instance.
You can also add various layers for editing, which this app will support. Then various raster tools can help you create more realistic works.
Additional editing tools include various pencils and brushes, vector cropping tools, shapes, transparency control, and more. There are some great advanced tools to be found here, but also it's basic enough for beginners.
Conclusion
Affinity Designer is a powerful editing and retouching tool that you can use to edit and change your images' look with an array of advanced and basic editing tools.