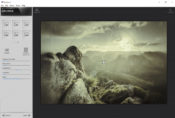 Snapseed for PC is an image editing application that can allow you to adjust the color or brightness of your picture.
You can edit it yourself or use the excellent tuning feature the application provides. Straining your picture, cropping it, rotating it, or fixing the aspect ratio, Snapseed covers all these dimensions of photo editing for PC.
You can easily switch between the original picture and the edited one to know the difference between the two, just using a mouse click. JPEG and TIFF file formats are supported by it, and exporting files s possible in both these versions only.
Sharing pictures through various social media forums is just a click away, so you can adjust your pictures quickly and share them online without any issues.
Snapseed for PC is a picture editor to adjust your image handily and shares it on social media or export it in specific formats.