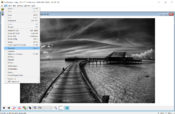 An application to provide you with the image viewing and editing facility is FreeVimager. The support for the touch screen gestures to adjust the pictures for viewing them is available.
These gestures include the zooming function and the next or previous photo. You can even view the location of the image in Google Maps.
Many file formats can be viewed and edited. These formats include JPEG, PNG, BMP, GIF, etc. You can even save the final output of the picture in the form of a PDF. The rotation of images without losing any part of the image is another feature of this application.
Moreover, FreeVimager works on multi-monitor networks where one picture can be easily shown on different monitors. Metadata during editing is kept to provide you with safe editing features.
Additionally, printing, emailing, and exporting are the other options for the pictures using this application.
In the editing tool, you can expect all the prominent options like resizing, reshaping, cropping, color change, etc., to be provided by this app.
Overall, FreeVimager is a free tool that contains multiple features for viewing and editing pictures.