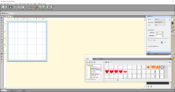 Easy Cut Studio is an all-in-one application for creating signs and designing models from scratch using the many customization tools inside the app.
If you're looking for a comprehensive tool for creating logos, then Easy Cut Studio is an app that can help you out.
It has all the tools and features needed to help you create signs, logos, and other graphics like shapes, stickers, lettering, decals, and more.
It's compatible with TrueType and OpenType fonts and different types of designs.
Versatile Design App
It offers you a wide array of tools to help you create customized graphical elements and other types of products. First of all, we should mention the user-friendly interface.
While it might seem a bit complex at first, with all the additional tools and features, Easy Cut Studio is easy to use with its clear interface once you get used to it.
We should also mention that the app is compatible with a wide variety of formats that you can work with. These include PNG, SVG, AI, PDF, SCUT, TIFF, and BMP.
It will enable you to import your graphical elements into the interface and work with them, regardless of type.
Vinyl Cutter Freedom
It strives to bring you full control over the features and the products you will create using this application.
With the variety of tools available inside this app, you'll be able to create custom products that you can tailor according to your wants and wishes.
You'll be able to create various graphical elements, including logos, signs, shapes, stickers, lettering, decals, and other elements.
The app offers you full freedom over the process and shows you some of the most widely used tools for jobs.
Conclusion
Easy Cut Studio is an advanced and complete graphical design tool offering you all the features needed to help you out.