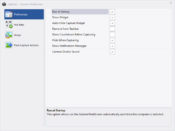 Gadwin PrintScreen is one of the screenshot-taking tools you can use for sharing or printing purposes, with easy-to-use capturing facilities available for the users. It can take a screenshot of the screen by using a keyboard.
You can adjust the keyboard's settings to get the desired hotkey combo. By selecting a particular hotkey of your choice, you can make capturing the screen a lot easier compared to the other tools available for this purpose.
You can get the print of the screen, save the screenshot to a specific destination, copy the screenshot to the clipboard, or share it with others via email. Moreover, the capturing options can also be easily altered by using this app. The choice is between the full-screen capture, window capture, and capturing a specific portion of the entire screen.
It supports six different image formats. You can crop each of these images to get the best pictures. Additionally, editing photos and adding an annotation are among the two most important features you can get through this application apart from capturing the screen.
Customizable arrows and speech bubbles are also available in this application to provide a better editing facility to the users. You can even set up different profiles so that the setting, once done, can be saved, and you can speed up the process of taking screenshots.
Gadwin PrintScreen is a tool to capture screen activity. Furthermore, you can edit and add annotations to make your screenshots more meaningful and useful.