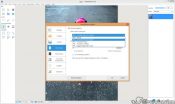 PhotoDemon is a free portable photo editor that allows any user to edit their photos with ease. It comes with a plethora of features and multiple effects: artistic, blur, channel operations, color adjustments, distortion, edge detection, experimental, histogram, lighting adjustments, monochromatic conversions, nature-inspired, noise, selection tools, sharpening, stylize.
As benchmarks are showing, this tool is much more rapid in photo editing operations than other editors like GIMP or Paint.NET.
Other important features of this program are macro recording, batch processing, and save/load presets for all tools.
PhotoDemon features and benefits:
Extensive file format support, including all major RAW formats

Powerful selection tools
Color-managed workflow
Non-destructive editing for select features, including resizing and key adjustments (exposure, clarity, vibrance, etc)

2D transformations: advanced rescale operators (Sinc, Catmull-Rom, etc), content-aware scaling (seam carving), crop, rotate, shear, zoom, tiling
Pro adjustment tools: levels, curves, HDR, white balance, split-toning, sepia, full-featured histogram, green screen, Wratten filters, and many more

Filters and effects: perspective correction, edge detection, noise removal, content-aware blur, unsharp masking, lens diffraction, vignetting, film grain, and many more

100+ tools