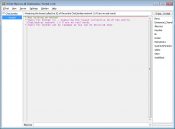 XChat provides support for multiple chat rooms or IRC channels. As a free multi-platform chat client, things could have been better, as other similar programs deliver better quality under a nicer user interface. Everything looks like an ordinary XP window.
At the beginning, you are asked to type in user information and choose connection mode. Then, you will be required to fill in the name of the group you want to join or select one from a given list of groups. As soon as you have selected the channel, you are ready to start the conversation.
No other security options or plug-ins have been created for this chat client.