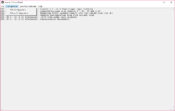 If you are looking for an application that can provide a secure client-server transfer, then this application is for you.
With this application, you can expect to encrypt POP2, POP3, and IMAP servers. The layer of security that you can get with Stunnel is SSL. Apart from protecting these servers, Stunnel can also protect SMTP, HTTP, and NNTP. Additionally, tunneling over sockets is also provided by it to ensure high-level security to the data.
The installation of this application is not complicated. You need to follow the instructions on the screen for most of the part of downloading and installation of the application. However, you might need to choose individual options and ensure the provision of specific details like country, host, and city. You might decide to leave some of the options as blank; it is totally up to you.
You can configure the settings of the application quite easily. The settings menu also provides you with an ability to check the logs of the changes that have been made in the application and the operations that have been performed using this utility previously.
There can be some technicalities involved with the configuration of the application, so the application aims to serve the advanced users looking for a secure client-server transfer. FIPS 140-2 mode is another feature of the application. The cryptographic module validation is the result of this feature of the application.
Stunnel is an application to provide you with a secure client-server transfer that can facilitate you in the best possible way.