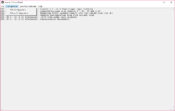 Add SSL functionality to POP2, POP3, or IMAP servers with the help of Stunnel, which can also work for standalone servers like NNTP, SMTP, and HTTP.
Today, SSL is one of the best and most efficient types of protection that many servers and websites use to protect their security and integrity.
It's also called the secure socket layer, and its job is to ensure that the server's users have their data secure and safe, no matter if there are some attacks from other hackers.
To apply the SSL security layer to inetd files, you'll be able to use the application called Stunnel. In essence, this is one of the more advanced tools that will work with most POP2, POP3, and IMAP servers, but it will also work for servers like HTTP, NNTP, or SMTP.
It's worth mentioning that it's meant for more advanced users than beginners.
Installation and Setup
Installation and setup might take some time, especially considering that you'll need to configure some important installation aspects. You will first need to select the components you want to include in the installation, and thus the size of the installation can vary greatly depending on which components you pick.
Then, you can also select which certificates you want to add. You can add custom ones you've created or others you might have gotten elsewhere.
You'll also need to enter other details like city, country, state, and localhost details and further information that might be requested to complete the app installation.
For Advanced Users
Then, you'll need to customize and establish a connection with the server, which should be easy enough. However, some tasks inside are for more advanced users, which might become too much for beginners.
The tool is aimed more toward professionals than beginners, although it's easy to use if you know what you're doing.
Conclusion
To help you with your server's SSL safety, you can use Stunnel, which is one of the most popular apps for ensuring that SSL safety gets incorporated into servers.