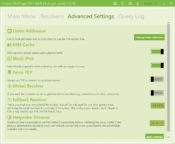 Configuring DNSCrypt proxy has never been easier. Simple DNSCrypt provides the Windows users an excellent opportunity for setting the DNSCrypt proxy. The interface for managing of the configuration tasks is simple and clear. The users can quickly get to know what they are looking for. However, the configuration of the proxy settings is itself difficult so, you can't expect the new users to manage it on their own.
Some built-in resolvers can manage the fundamental problems that can be faced. So such a resolver can help in time saving and efficient operations of your application and the computer.
Some of the features that you can manage through this utility  include DNS cache, TCP, manage gateways, checking for updates, minimizing and maximizing trays, etc.
Simple DNSCrypt provides you with a tool that manages the configuration of DNSCrypt proxy with features that can make your work easy and less time-consuming.