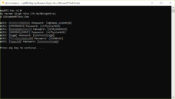 myWiFi Key allows you to recover the passwords of various wi-fi networks or hotspots. This application is a simple, lightweight application that performs most of the work on its own and does not require any manual work. You need to install it, and it comes with the details of how this application works.
It can work with the routers of all brands. The application has to work with the router and discover the wi-fi key that governs the accessibility of signals.
This utility can work for beginners too. You do not need to be a technical individual to get the wireless connection passwords with myWiFi Key.
You must use this utility whenever you want to access the network. The application's interface is preview only, so you cannot access the options tab or such a menu. Additionally, you cannot copy the password the next time.
myWiFi Key is a lightweight application that requires a small space on your device but can connect you to wireless networks if you forget the password.