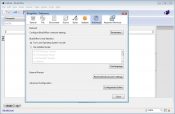 BlueGriffon is a content editor that was engineered through the use of Firefox's rendering engine, namely Gecko. At first sight, it appears to be a modern and robust package of bits and pieces that can't wait to be put to work.
Actually, as a multi-language web tool, this proves to be an unexpectedly good choice for beginner and advanced Web authors alike. That is why this software is recommended for those who have just started learning the inner workings of Web standards.
The Gecko engine eases our work and, if your skills are more of an advanced developer, then the Source View section was meant for you.