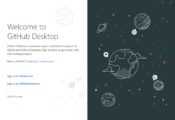 GitHub Desktop is the go-to platform for many coders and developers worldwide, as it is an application that allows you to store your programs in this online repository of codes where you can also collaborate with others.
GitHub is one of the most popular platforms for coders around the world. It is a code repository system where you'll store your code and get it validated by experts and the Git control system. The system is designed so that you're able to make sure that the code works as you upload them to the interface.
Originally, GitHub was designed to be used inside a web browser, but you can now do the same things on the browser inside with GitHub Desktop.
You can still manage and upload the files to the repository, although you'll need to have the .NET Framework installed and ready.
Manage and Upload Code
The primary role of GitHub is to help you store your code online, as it acts as an online repository. You'll need to have an account to get started with the desktop version of this platform.
You'll need to sign in to the account or create one if you haven't yet. The great thing about the app is that you won't need to open the browser to access the database.
Sync Files, Collaborate with Others, and More
In essence, the desktop version of this application will enable you to do the same things as you would with the web browser version. You can also create new branches for new projects, add them to the interface, and sync the code on this system with other types of code you have elsewhere.
It's also lightweight and easy to manage, making it easy for developers and coders worldwide to come together and collaborate.
Conclusion
GitHub Desktop is the desktop client of GitHub, offering you the same features as GitHub offers in a browser.