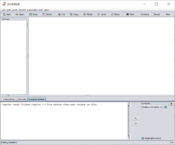 DrJava is an application to write Java code for the beginners in this field. The interface of the application is interactive and intuitive to provide a simple learning environment to the students. It contains the editor, compiler and debugger in the single application to help the users getting the end product through a single platform. Although it is easier to use for the beginners, it contains all the functionalities that would satisfy an advanced user.
This lightweight application is easy on the resources of the system along with its availability without any cost. Downloading the application is not much difficult, but it requires the right platform to be chosen to get it for your device. Additionally, there is a specific hardware requirement if you need to use it on your system. Furthermore, the presence of some drivers is considered to be prerequisite for the proper functioning of this application.
DrJava is an application to provide you with an environment best suited for the creation and testing of Java code. The utilities and features that are the part of this application ensure an effective and easy solution for the beginners and the experts alike.