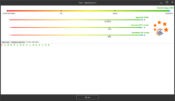 RapidTyping is an application that will teach you how to type faster and more accurately with its lessons, where you can develop your typing technique.
Typing quickly and accurately might be one of the most important skills in today's world. It would be best to type faster and more accurately than your competition, whether you're typing emails, blogs, articles, or other texts.
You will also appear more professional if you manage to do that – the good news is that everyone can learn it.
This application comprises exercises and other resources to help you take your typing skills to the next level and become a faster and more accurate typist.
Also, you'll learn to type faster without looking at the keyboard, which is one of the keys to fast typing.
Type Faster Without Looking at the Keyboard
If you want to learn how to type faster, one of the most important lessons will be to type without looking at your keyboard.
Now, this will take a lot of time and practice, but once you learn this, you'll become a much better typist, a skill you can learn for life. And you can use it for different purposes.
And that's what RapidTyping can teach you. You'll be able to take the exercises and watch the lessons inside the app to learn how to master this skill properly.
You'll be able to learn each part of the keyboard separately, which will help you ensure more success with your learning efforts.
Customizable
Moreover, the application also provides a good level of customization, as you'll be able to change the appearance, the hotkeys, and how the application works.
It is all meant to make you accommodate your keyboard.
Conclusion
With RapidTyping, you can learn to fast quicker and more accurately in a few weeks and months if you take the exercises inside.