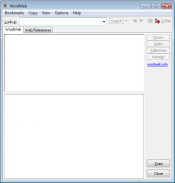 WordWeb is an intuitive dictionary application that will help you find definitions of words and also find synonyms with ease, thanks to the English thesaurus application that may help you out when writing.
English is a beautiful language that has been around for hundreds of years, and today, it has become the primary language for people to use worldwide.
Many people write in English for their work and leisure – poems, literature, solve crosswords, or even play games like Scrabble. That's when synonyms can be very useful.
WordWeb is an English thesaurus that can help you out if you're writing or simply looking for synonyms of words. It's a simple thesaurus app that will allow you to search for words and then find synonyms, find references for the word online, get their definitions, and more. It's simple to use and friendly for beginners.
Find Words You Need
The main premise of the application WordWeb is quite simple: it will help you find words and their definitions by searching through different dictionaries that you might find online or elsewhere. It is an intuitive application with a relatively simple main interface, where you will be able to find the meanings of words instantly.
To do that, all you need to do is type the word you're searching for in the search bar at the top of the window. Then, the app will search for the word in various dictionaries.
Once it has found some results, it will show you the results and help you find the definitions of the words and their synonyms.
Simple to Use
It is designed to be used by anyone who might need its service, including people who are not well-versed with technology and the latest tech trends.
It has a simple interface where finding the words you're looking for is easy, as you only need to enter the word you're looking for and find it.
Conclusion
To conclude, WordWeb is a great application to help you find word synonyms and their meanings. The user interface is rather simple but does its job fast.
Users may find useful the existence of a full dictionary and thesaurus for American, British, Canadian, Australian, Indian and Global English.