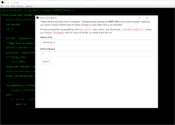 Showcase your hacking skills and impress your friends with the help of HackerTyper, which can be used as a fun application to make you look like a real hacker.
Hacking is sometimes perceived wrongly in today's society. Many believe that hackers have these quick typing capabilities that allow them to write dozens of code lines in just a few seconds.
The reality is much different; hacking and coding can be a long process of figuring and testing, sometimes amounting only to small details.
But hacking is also a fun activity you can use with your friends to have fun, even if you don't know how to hack.
You can do that using HackerTyper, a fun application that will turn you into a hacker without knowing how to hack. It must be noted that this application is mostly used for fun, though.
Become a Real-Life Hacker
Hacking is sometimes perceived as something only a few chosen can do, but it's more about practice. However, with HackerTyper, you will take all of the hard work out because the app will create the code on its own, you only have to press buttons, and it will appear as though you're writing the code yourself.
It can be a great way to poke fun at your friends who don't know how hacking works, and it might appear as though you're hacking them.
There are two presets in this app: terminal and kernel. With the two, you can change how the app works with just a couple of clicks to don't have to write code yourself.
Good Fun
This application is meant for a bit of fun and should be considered before you start using it. You can create something that looks like a hack, but it's all a bit lighthearted and not very serious.
Conclusion
HackerTyper can be a great app for fun, as you can create hacking codes without knowing a single line of code.