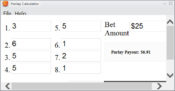 Parlay Calculator is an application specially designed for parley betters. It helps them in making their decision regarding the bet. This application uses the mathematics and formulas to help you in calculating the winning amount in the various bets that you have made. It incorporates the odds of winning and the amount that has been used for placing the bet.
This application is handy and easy to use because it does not require you to calculate any values for providing you the estimates. All this is done by the application on its own. Moreover, the results generated through the Parlay Calculator are reliable. So, you can as many times as you want to know the possible winning amount.
Parlay Calculator is an application that can help you in Parley betting by calculating the amount of win that you should expect in the bets.