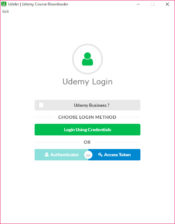 Udeler helps you to have Udemy videos and tutorials available on the computer for easy and quick replay. If you have them on your computer, you can watch them many times without the need to have an internet connection.
Udemy offers instructional videos made by experts in a variety of verticals. Without having videos downloaded from Udemy, every time you want to learn something, you will have to visit the website and go through login and several clicks.
With it, you can do away with this problem. It is an application designed to download Udemy video courses and create a library on your computer. As a result, pause, rewind, and play options are not as interactive as using VLC Media Player on your computer.
The app detects the videos after you have logged into your account and videos load on the browser. It catches the URL and starts to download the instructional video. It more or less works similarly to the IDM download manager. However, IDM does not support downloading videos from Udemy. Udeler is specially designed to work on the Udemy site.
You can set downloads in batches and download the entire course at full speed all at once. It only downloads videos if you have paid for them. It cannot download classes for free.
After you open the app, you are shown a login panel where you enter the details of Udemy.  The main windows will show you the courses, including thumbnails and videos. As the app does not have a web browser, you cannot access the whole Udemy site from this app.
The download buttons appear right next to the courses, which you can click on to download them. All the downloads are saved in the 'Downloads' folder, but you can change the download path and save it in your chosen folder.
Udeler supports pause and resumes feature. Before downloading a video, you can choose the video quality as well.