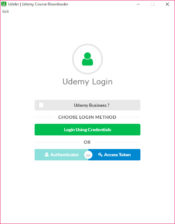 Download Udemy videos of the courses you've purchased and store them offline easily with Udeler. This simple application makes it easy to keep the content you download from Udemy on your computer.
If you're an online learner, then you've almost certainly already heard about Udemy. It's the biggest platform for online learning where anyone can create their course. It's well-known for providing affordable and high-quality courses on almost any topic.
Most courses are video-based, and they can be downloaded once you buy the course.
For downloading the courses and their contents, you can use Udeler. It's a simple application that will help you download the content of courses and store it in one place.
You'll have more control over the courses you own. Note that it won't unlock the courses you haven't bought – it merely speeds up the process of downloading content and allows you to store it in one place.
Download Udemy Courses Easily and Quickly
First, you'll want to install the application on your computer. This process should be swift and easy to follow. Once you're done with that, you'll want to enter your Udemy credentials, and then the app will automatically detect which courses you've purchased.
You won't be able to make new subscriptions, though.
If you want to download a specific course or just a portion of it, you must select the course you want to download first.
Then, you'll be able to choose the parts of the course you want to download, or you can also choose to download an entire course if you wish to do so.
Store Your Courses in One Place Offline
Udeler also provides you with a nice library of the content you download. You'll be able to see what you've downloaded in the Downloads window, and you can also always change the directory to where you download content.
You'll have full control over where you make the downloads.
Conclusion
Udeler provides you with a nice option for downloading Udemy courses and their contents and keeping them organized on your computer in one place.
It supports the pause and resume feature. Before downloading a video, you can choose the video quality as well.