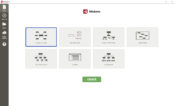 Mindomo allows you to collect and organize your files and documents and share projects with other users, which will help you keep your computer organized and clean.
Mind mapping is one of the most effective ways of staying organized. One of the best mind-mapping apps is Mindomo, a desktop application that will help you organize your ideas, links, websites, pictures, notes, and much more.
It does that by visualizing your key ideas and concepts and collecting them in one organized place.
Easy Mind Mapping
Mind mapping is a very effective way of collecting data and ideas and putting them into diagrams. It is a visualization technique that allows you to remember things better and to keep things more organized. This technique is far more effective for some people than writing out your ideas in sentences or organizing your thoughts.
This tool does that for you and puts your ideas and things you want to remember into mind maps. Within seconds, you'll be able to have your topics, ideas, and thoughts organized.
With this software, you'll be able to insert ideas, topics, subtopics, hyperlinks, attachments, images, and multimedia into the mind maps so that you will stay more organized.
Customize Diagrams Easily
The app is quite easy to use and comes with various useful customization tools, too. On the left-hand side, you'll have all your customization options. You'll be able to insert comments, topics, notes, and images to existing diagrams and easily customize the look of diagrams.
There's also an embedded web browser that allows you to browse web pages without leaving the app.
You can customize the shape and the look of the diagram. You can also change the background color, fonts, lines, types, and other colors and the arrangement of the diagram. You have a lot of freedom in this department.
To conclude
Mindomo is a mind-mapping app that will help you create diagrams to stay more organized, keep your ideas and thoughts organized, and save these diagrams easily.