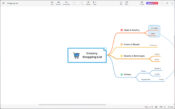 People use mind mapping to manage complex information and create a clear stream of thoughts. XMind is a digital mind-mapping application that can help you organize all the information.
You can create clear linkages between different factors, organize your thoughts, and explain the processes nicely to others. Tree charts, logic charts, and organizational charts are the most prominent charts provided by the application.
It can work as a typical brainstorming tool to keep inserting new ideas without any specific organization. It helps you in arranging these ideas in a better way later.
Presentation creation is also possible using XMind. The full-screen mode will allow you to keep the focus of your audience on your presentation. Additionally, you can limit the use of additional features so your audience will not get distracted.
Ten different fonts are available in this utility to differentiate between certain topics or use a readable font in the presentation. Exporting the files created with this application to the PDF version and saving it to Evernote can help share the files created.
XMind is an application to organize your data, brainstorm, and present your ideas to a group audience.