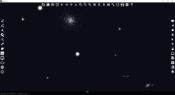 See our solar system in 3D with the help of WinStars, which can be used as an application for learning or entertainment, as it will allow you to see stars and objects in our solar system.
Viewing objects in 3D from our solar system has never been easier than with WinStars. It's an advanced application meant for enthusiasts of the solar system and explorers who want to learn more about our solar system and the stars in it.
It features many advanced functions for viewing additional information and more.
Two Modes of Use
You'll have two options regarding the modes you can use. The two modes are Planetarium and Solar system mode.
In the Planetarium mode, you can focus on planets, see all the information about them and their positions, and analyze them in more detail than you would normally.
The other mode is the Solar system mode, which is a bit more complex. Here, you'll be able to browse objects in a bit more detail, as you'll be able to see various pieces of information about the objects you're looking at.
You'll search for them using some parameters, which gives you more control over the app.
Search Solar Objects
WinStars allows you to search the solar system using many different parameters that will make it easier.
Thanks to the built-in search engine, you can look at specific objects inside the solar system. You'll be able to search for them by position, date, local time, time zones, and more.
You'll also be able to tweak certain parameters of 3D animations, such as speed or time delay between two frames of your animation, giving you more control over how you view animations.
Conclusion
WinStars is an advanced application for spatial explorers, giving you an array of advanced tools for viewing attractive 3D animations of objects in space and the ability to search for objects using a few different parameters.