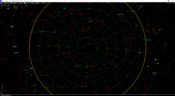 HNSKY is a planetarium software that allows you to show stars up to magnitude 16, all while having HD graphics. There are different extensions you can download as well. These extensions unlock a variety of features. For instance, you can start seeing asteroids, comets, and over 30,000 objects in the sky. That is not to mention the 4.5 million stars it lets you see.
The application is free and works with virtually any telescope with ASCOM compliance. It is perfectly suited for all astronomers, whether you are an amateur or a pro.
Accuracy
If you are going to use software to check out the night sky, you want it to be accurate. Luckily, that is the case with this. Any time, you can look into your telescope and customize what you see.
Think of it this way. Say you want to see comets, planets, or stars. Well, zoom in or out, and you can examine it. You can do it if you wish to explore constellations, planets, or something else. Now, there are also databases of different kinds for you to explore.
You can determine how much you want to see the stars in terms of density. By changing around the settings, you will notice that you can get a new look at the night sky that you might have taken for granted in the past.
The moon, the planets, and the various sky elements are all there for you whenever you want them to be.
Customize
One of the key features of this application is that you can customize it so much. Take any period, and you are likely to be able to get a glimpse of it. It will even show you moon tracks.
The databases are very vast. It is great for expanding the range of things you can see.
Lightweight
For being such a large application, it is surprisingly lightweight.
You don't have to worry about the program being enough to handle your needs. You also don't need to bring in outside resources. It will surely enhance your experience.
Comprehensive
It would appear that this software does everything you would expect of something you used to see the stars. The resources are enriching. It is both a learning experience and interface design that pleases the eye.
If you want a new database, that is no problem. Just import it, and you are on your way. There is a huge database at your disposal.
Wrapping It Up
If you have ever looked up at the night sky and been in a state of wonder, then you will love HNSKY. We were getting lost in the realms of data and space that this software features. It seems that no matter what you are looking for, you can find it.
The ease with which you can use it and the huge amount of data make this worth picking up.