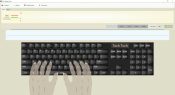 If you have to type at their job, and you're not typing very fast, you must know that you can always learn to type more quickly. It improves your productivity, and it makes your typing more accurate. It's hard to achieve both simultaneously, but it's possible.
Thanks to an application like Tach Typing Tutor, you'll now be able to achieve both a higher typing speed and a higher typing accuracy. It improves your productivity and boosts your chances of completing more work throughout the day.
Easy to Use and Beginner-Friendly
This application is suitable for both PC beginners and also advanced users. That's mainly thanks to the neatly organized user interface that allows you to use the app easily and not focus on the details as much.
At the start, you need to enter your username and set up your profile, which only takes a few minutes. It is handy since you can use several profiles with Tach Typing Tutor. When you launch the app next time, you must select your name, and the progress will remain there.
The learning is done through a series of exercises, which are all sorted in difficulty. So if you're a beginner, starting with the easiest exercises is recommended and making your way up the ladder.
Eventually, you should become better and more proficient at typing. You'll be able to track your progress easily and see how far you've come since the start.
Take New or Pre-Existing Exercises
With typing, it's all about practice, so the more exercises you do, the better you will become at typing. You can watch tutorials first to see if you're already good at something and then start taking the lessons.
You'll be able to use the existing lessons, and once you complete them, you'll also be able to import new lessons.
Conclusion
Tach Typing Tutor is an important app to improve typing speed and accuracy.