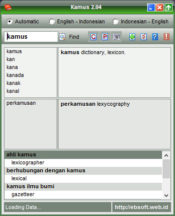 Translate English into Indonesian and vice-versa with this user-friendly dictionary that will provide you with accurate and automatic translations and additional functions.
Learning languages can be fun, especially if you're a DIY learner. In this way, you can learn with the help of online resources and apps.
And one of them is Kamus, a dictionary that will help you translate words and phrases from English into Indonesian and vice versa.
Easy Installation and Simple Interface
When you start with the installation process, you'll see that it has two main modes: English to Indonesian and Indonesian to English. The installation should be a piece of the cake, especially if you have experience installing apps.
You'll find a simple and intuitive interface when you finish the installation.
You can choose from the two dictionaries we've discussed above or the Automatic detection mode, which will search for the words you enter automatically and choose between the two dictionaries as needed.
Search Words and Add Custom Ones
This tool's main capability is to let you perform searches for the words you want to translate from one language to another.
The process is simple enough for anyone to handle – you type in the word, and the app will automatically translate it. In the first window on the left, you'll find exact matches for the words you've entered.
You can search by original words, which is the primary mode of this application. But you can also add custom words to the dictionary and save them into the dictionary.
It allows you to use them later on and ensure they stay in the dictionary for as long as you want. The results should be displayed immediately after the search, and the app doesn't consume many resources.
Conclusion
To conclude, Kamus can be useful for learning Indonesian or English. You can choose between the two languages, translate words and phrases, and add custom words to the dictionary.