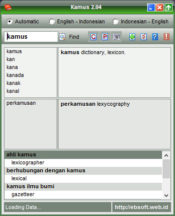 It is an application that provides you with the facility of translating the Indonesian language into English language and the words from the English language to Indonesian. Kamus is an easy to use supplication that is available to use soon after its installation. You can learn the Indonesian language using this application quite quickly because it provides the meanings of all the words of the language making the process of learning quite easy.
Additionally, the interface of the application is convenient for usage even by the new learners. There is a single interface for the entire application from where three dictionary options. These three dictionaries are Indonesian to English, vice versa and the automatic dictionary, which detects the words automatically and provides the meaning of the word.
You can even use the search operation for finding the word in the application. It can be searched in any language, and you can have the best matches of the word that you have entered. Additionally, the opportunity of increasing the database of the dictionary is also available in Kamus. You can add more words and their meaning to include your vocabulary.
This application is light in weight for your processor too. It does not require much of the space or time to load. As a result, you can get faster results.
Kamus provides an easy to use application for learning the Indonesian language. With different search features and convenient usage, it is one of the best apps.