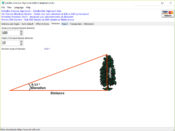 Take the guessing out of installing your new antenna with Satellite Antenna Alignment, which is a great app if you've just bought a new antenna and want to calculate angles without a fuss.
Satellite dishes are becoming increasingly obsolete but are still widely used worldwide. One of the main concerns of using a dish like this is that you cannot get it in line with the connection, making it difficult to catch the right frequencies that will enable you to watch certain programs.
But with Satellite Antenna Alignment, those struggles will be gone. This application makes it easy to calculate your antenna placement's right angles and ensure you're catching as many programs as possible.
It has a simple and organized interface where you can work immediately and work it out easily.
Easy to Use
This application must be as easy to use as possible. It has a simple interface where you can make calculations minutely. You can use various tools to make your calculations, and you can also view results quite quickly.
You'll also get some suggestions, although getting the angles right the first time might be challenging.
Save Configurations and Get Your Antenna Working
After your calculations, you can save the configuration for the next time you use this app. You can select the desired satellite to connect to and input the satellite site to calculate the right angles.
After that, you can save the calculations and use them in the future.
The app will do most of the hard work for you, but you need to put in the right data to make the calculations as accurate as possible.
Conclusion
Satellite Antenna Alignment is a simple tool that you can use to calculate your antenna's placement and make sure you get it right.