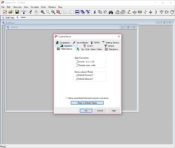 LTspice is an application that helps students and professional electronics engineers design switching regulators and run circuit simulations.
When you want to create a switching regulator and run circuit simulations, you'll need software to make them.
LTspice can be a highly valuable piece of software for students and working professional engineers that will help them create those types of simulations easily. They will do this with the help of the SPICE circuit simulator.
Great Content Library and Flow Configuration
What makes this utility so good for those people is its impressive library of content. You can add various predefined components to the simulations, such as resistors, capacitors, inductors, and other similar components.
But you can also add a wide variety of components, such as BUS taps, wires, diodes, text boxes, labels, and many others.
At the same time, LTspice offers you a nice drawing tool. With this drawing tool, you'll be able to add almost any other type of component you might imagine when you're working with this type of tool. You can add geometrical shapes and figures, giving you much more freedom for what you do than tools that only offer predefined components.
You can start configuring each component by right-clicking on it. You can easily change some parameters, such as the resistance, tolerance level, and the resistor's power rating. You can also integrate and configure MOSFET components quite easily.
Test the Design
Once you're happy with the initial design, you can conduct various tests to see if it's up to your standard. This tool offers multiple reliable testing features to help create a great and reliable simulation.
It is a crucial step when building electronic components and can give you insight into the quality of what you've just built.
Conclusion
LTspice is a reliable and powerful application that helps students and professionals create a switching regulator and run circuit simulations.