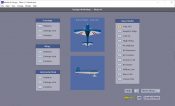 If you like aircraft models, finding good software for them can be difficult. You might have ideas yet not have the tools to put them into reality. That's where great applications come in. One such application that you might consider is Model Air Design. It offers templates and ways to design your aircraft model in real time.
The application is comprehensive, professional, and easy to download. Let's take a look at its features:
Advanced Features
Model Air Design is an intuitive application for designing 3D models using templates of aircraft types, sizes, fuselages, main planes, engines, and wheels. It is a cross-platform utility software explicitly built for designing and creating 3D-model aircraft.
Although there are other 3D design tools with numerous drawing and editing features for airplane design, this application practically makes the entire process easy, smooth, and fun.
Using the features and functionalities found in this design software, aircraft designers can creatively craft airplane models by drawing and bringing parts together.
Interface and Tools
Due to its intuitive interface, the app guides you on the step-by-step process when drawing or designing an aircraft—making things easy for even a first user.
With a few clicks, you can navigate and pick up the available aircraft models, sizes, fuselages, main planes or wings, engines, and wheel assembly.
Visuals
One of the main points of making model planes is to have something you are proud of. You want to show people and get enjoyment out of your work as you display it.
You won't have issues getting a beautiful result from the wings to the wheel assembly. You can pick all the colors, design patterns, and styles you can think of. For aesthetics, you can also pick desired colors for the following essential parts of the aircraft.
Preview
A user can preview his work (the airplane) in any desired angle, side, and direction during the design process by enabling the auto-rotation mode. It can be easily achieved with the clicking of a few buttons. Lastly, the software allows you a total of the 3D-view rotation.
The application also has powerful features that allow you to select and modify the aircraft's speed and show frames-per-second statistics. Also, it supports hotkeys, but they cannot be altered.
The app offers high picture quality and zero errors throughout the process to ensure that your work's effort and beauty are seen and appreciated. The app allows you to print or save projects.
Conclusion
The application is a very useful and vital tool with exciting features for 3D-airplane model designs. It is a simple and ideal tool for both experienced and amateur designers.
When we review software, we are always looking for programs with a lot to offer compared to the difficulty of using them. We can say that Model Air Design surely passes that test.