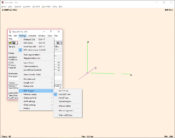 2D or 3D geometry structures are not very easy to develop or edit, but using 4nec2 can make the management of these geometry structures easily manageable.
4nec2 supports the use of this application by both the beginners and the experts. The features that have been provided in the application for attracting the beginners include the creation of antenna models, comparing field patterns, and generating the SWR charts. For the advanced users of the application, the genetic algorithm optimizer allows complex functions to be performed.
Beginners might not be able to get used to the application's interface because of various features present on the screen. However, over time, you'll realize that these tools have been kept the way they are to provide you with fast access to all the features.
You can also get all the information about the essential parameters regarding the antenna. Voltage, impedance, and frequency are amongst the few available statistics.
Zooming in and out, movement, and rotation and editing features are available for the geometry models developed in 2D or 3D. Moreover, some of the geometric features are made auto adjustable depending upon your needs and precise specifications, which can make some of your work easier. The evaluation of these models and the generation of the models' efficiency and resonance is also possible using 4nec2.
4nec2 is a 2D or 3D model geometry viewer and editor composed of numerous features for making things optimized and easy-going for you.