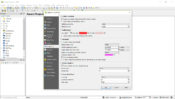 Quantum GIS allows you to create maps thanks to a wide variety of tools you'll find inside this interface or easily edit existing maps.
When setting up your maps when you're going abroad or into an unknown area, you'd want to have them as accurate as possible.
Plus, having some nice vectors and graphics will make it easier for you to find your way, even if you're unfamiliar with an area you're going to.
For updating your maps, you'll be able to use Quantum GIS. This application has all the features you'll need to keep your maps up to date and ensure that you can easily find your way without losing yourself wherever you might go.
It also allows you to browse and edit existing maps and data and use a wide array of vectors.
Create or Edit Maps
It will come useful to any user that wants to work with maps. Whether you're creating your maps or you want to edit existing maps, you'll find all the necessary tools inside the interface.
It supports various formats and provides advanced tools like direct raster viewing, spatial data, mapping, interactive exploration, creation, and more.
It might seem a little difficult to operate this application at first, especially if you're unfamiliar with it and have never used an app like this before. But despite having complicated tools inside, you'll be pleased to know it's a fantastic tool once you get used to it.
Supports Different Map Types
Another great thing about this software is that it supports many maps that most map creators use. For example, PostGIS or SpatiaLite are two of the most common maps users prefer, especially when using them.
There are also OGR, GDAL, ESRI, and other formats that you can use inside this app.
Conclusion
Quantum GIS is a useful application for creating or editing maps that might take a bit to get used to.