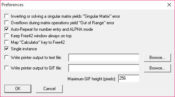 You can make complex calculations on your computer concerning the math expression without putting any pressure on your computer. Free42 is dependent on HP-42S RPN, which is a handheld calculator. By extracting the operational working through this calculator, you can expect this app to generate adequate results. Moreover, you can even have the skin of this cellular on this desktop application of yours' so that you will not feel any difference in the operations of this calculator.
It can quickly be taken anywhere, as it does not require installation. You need to attach a USB to get it running on the particular system. The best thing about this application is there are two different calculators in it. One of them is the binary one, and the other is the scientific one, thus serving all the users alike.
You cannot only calculate the expressions by using this calculator; instead, you can export the results for generating more benefits through the calculations that you have made.
The log of the operations performed on Free42 can be saved to the text file, so that you can have a better view regarding the calculations done to achieve a particular answer. It also allows you to keep this application at the top of the other Windows so that you can perform your calculations efficiently through it. Sin, cos, tan and matrix are amongst some of the complex calculations that this application is capable of handling.
Free42 is a handy tool to perform calculations based on the HP-42S RPN model of calculator that can calculate complex algebraic expressions.