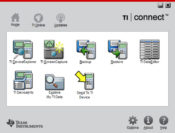 TI Connect can be downloaded as a package bundle. This package bundle contains the explorer of a device, data editor, backup and storage tools, and the tool for capturing the screen to provide you with the best possible content management facility.
TI Connect supports TI-73 Explorer, TI-83 to 92 handsets, Voyage 200, or CBL 2. To transfer data from the graphing calculator to your computer, you must use the drag-and-drop feature and the transfer will be done.
Apart from using the drag-and-drop feature, you can also browse the content of the machine connected to your computer. You cannot only explore the available files but manage them through this interface as well.
During the exploration process, you can expect to create new folders, delete the previous ones, and copy data from one device to another. Moreover, using this application, you can create a backup of your data on RAM, apps, and archives.
Similarly, when needed, restoration of data is also one of the utilities you can get through this application.
After creating graphs and other work, you can easily take the screenshot by using one of the tools this application provides for you. Using the screenshots in the presentation could be one of the critical ways of using the information stored via a screenshot.
Additionally, the role of the built-in editor of the application is diverse. You can use it to create new lists of information. Along with it, the changes made in the editor can be reflected in the existing data set.
Furthermore, this application can also show all the essential, relevant information related to the device. Model no, OS, BIOS version, battery status, and ID are a few items that can be viewed.
The usage of this application is a bit complex, but the interface is intuitive enough to help the newbies explore the platform in the best possible way.
TI Connect is an application to help you connect your graphing calculator to your computer.