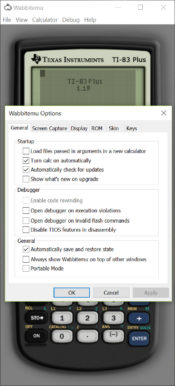 With Wabbitemu, you can debug various graphing calculators, including TI-73 to TI-86, depending on which one you'll use.
You'll also need to find an effective debugging method for graphing calculators.
Luckily, you will have an application like Wabbitemu, which works with most graphing calculators. It will give you control over all the necessary functions for the process.
Works with Different Graphing Calculators
You'll be pleased to know that it is a versatile application, as it will work with various calculators you'll find out there.
The supported models include models from TI-73, TI-81, TI-82, TI-83, TI-83+(SE), TI-84+(SE), TI-84+CSE, TI-85, and TI-86. These are all commonly used calculators, so that you can work with most of them.
If you're looking for a tool that will get regular updates, you'll probably be slightly disappointed that this application doesn't receive OS support and updates.
However, the core functions are still kept, and you'll be able to do your work just as well, whether you get the updates or not.
Additional Features
You'll also be able to access the debugging tool embedded with this application, which is necessary to help you with the debugging process.
After completing the setup, you can view the device you've emulated on your computer, and then you can use the debugger to achieve what you're looking to do.
The application will not create additional files or folders when you work with it, which is great news if you want to save space on your computer.
And you'll need admin permission anyway to make those changes, so the changes that will be made on your computer when using this app will be minimal.
Conclusion
Wabbitemu is a great app to use if you want to debug graphing calculators. It will work with different versions, and it's highly effective at performing various functions, as it's also quite easy to use once you're used to it.