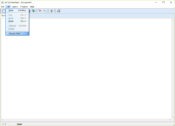 ChemSketch is a must-have tool for chemistry experts and lovers who want to make schematic representations of chemical formulas and substances.
It allows users to create their schematics from scratch. However, it also has a library filled with different schemas, so you can choose and get started with a blank sheet or use the available library material. You can also save your schematics in the library, which can help you later.
Another feature of this application is that it allows you to get a 2D or 3D picture of all the schematics. So you can create a better impact on your documents and presentations.
This program also contains the calculator of the molecular formula. This calculator can get the molar masses of minimal quantities of a chemical substance, thus allowing better accuracy.
Apart from the mass, you can also get detailed information about the elements of the periodic table.
ChemSketch provides an excellent tool to manage all the chemistry-related issues for you, including creating schematic diagrams, 2D/3D pictures and provision of details about the elements of the periodic table.