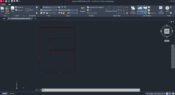 The rising need for computer applications for designing projects also requires the increased usage of the same applications for viewing the project's drawings. With a plan built in AutoCAD, you can view the images easily using this application.
DWG TrueView ensures you can have a complete view of the images designed in AutoCAD, but it does not require the same resources to load the images.
Working with this application is not difficult. The interface of this application is similar to AutoCAD but with fewer features, saving resources. Moreover, you can open multiple projects simultaneously to compare and contrast the designs.
Some basic tools are available, such as zooming in and out, rotating, and using the navigation wheel.
One of the limitations of DWG TrueView is that it allows only two format files to be loaded through it. These two versions are DWG and DXF files. However, you can convert the current DWG files to older versions to be compatible with the older versions of AutoCAD.
The files can be exported in PDF documents. Moreover, they can be easily printed with some options to make them adequate for your needs.
DWG TrueView is an application to facilitate the designers to view the drawings and designs made with AutoCAD.