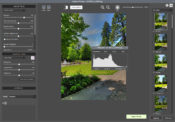 Photomatix can provide a simple to complex retouching process within a few minutes. When considering the interface of the application, you'll find it simplistic. Although some tools are available conveniently, they lack a modern look.
However, it has the drag-and-drop feature enabled, so you can use this method to bring your files to the application. Otherwise, you can import them through the browsing option that the application provides to the users.
Enhancer and compressor are the two main options you would look for on this application. By using them, either you can enhance the overall outlook of your application, or you can lower it, depending on your needs and priorities.
Moreover, you can adjust the saturation level, the color's strength, contrast, detail, and other editing elements that can give a different look to the existing image. Similarly, you can adjust the lighting elements of an image or settle the level of details and layers in a picture.
The best part of this application is that you can use Photomatix for single-picture editing or bulk-picture editing. Furthermore, the application also provides you with simple editing options like cropping, resizing, and rotating. You can choose the relevant settings from the options that are available to you.
One of its limitations is that it requires excessive computer resources, so you might not be able to use other applications when using it.
However, for your facilitation, it contains a user guide and answers to some of the possible questions that might come up in your mind while using this application.