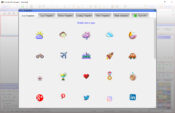 With Yasisoft GIF Animator, you'll be able to make GIFs easily and with an approachable interface, which is especially suited for beginners.
Creating GIFs is becoming more and more popular on the internet. Whether it is for you to simply have some fun, create memes, or even use GIFs for your work, you must know how to make a good GIF. You can create GIFs with a good software application, although these apps are sometimes quite complicated to use.
Yasisoft GIF Animator is a great GIF creating application that will help you create GIFs even if you're a complete beginner. Today, the need to develop GIFs has become so big that competition has become strong.
And there's also the need to create GIFs quickly and without too much of an effort. And that's exactly what this utility helps you fix.
Packed with Features
Yasisoft is primarily aimed at beginners, although it does come with a huge library of various files, images, and effects you can use to create GIFs. In the GUI, you'll be able to see all of the features in one place and see the capabilities of this tool.
But to use this app and its full potential, you don't need to be a very skilled programmer or even a designer.
It's aimed at beginners, even though it has a huge library of various effects and images. You can simply start creating gifs by adding frames to the tool, and you can even turn pre-defined shapes and images into GIF files.
You can organize them into multiple layers and go even deeper if you want to. Or, you can create these GIFs quickly and easily.
Image Editor
To top it all off, you'll also have the ability to edit all of the images and footage you use to create gifs. You'll have all sorts of drawing tools, such as a pencil, pen, color pickers, sprays, and much more than that. You can combine that with your images or pre-defined images and create your unique gifs.
You can also use other effects that will make the gifs even better. You can add an image to the gif with just one click. You simply need to select which image you want to add. You can then add some effects to the images, such as styling effects, distort, and adjustment effects. You can also apply blur effects if you want.
You have a lot of freedom, and despite all of that, the tool is incredibly easy to use. That's a huge advantage this tool has over some other tools on the same ilk market.
Conclusion
Yasisoft GIF Animator is an application that will help you create and edit GIFs easily and intuitively with a set of great features and editing tools. You can also apply various effects to your GIFs and make unique ones that you will use for fun or some of your projects.