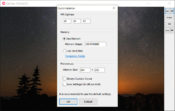 GifCam helps you turn the screen recordings captured with with your PC camera into GIF files. You can save them on your computer, share with others, or play them. GIFs are some of the most popular types of multimedia today. But turning your screen recording into GIFs is not possible without a dedicated piece of software.
And that's where GifCam comes in. It will help you turn the screen recordings that you do with your cam into GIFs, as it comes with some nice features that allow you to transform your footage into high-quality gifs.
Transform Your Footage Into GIFs
One of the best things about this utility is that the files you'll create with this app will be quite small. It means that they can be transformed quickly, and they can also be shared in an instant.
If you intend to use them on your website or somewhere else, it's quite important because it enables you to have low loading times.
As you capture your screen footage, you'll be able to start creating gifs instantly with this tool. It will appear on the top of your screen, allowing you to capture everything that you use within the frame.
Then, once the footage is complete, it will turn into a gif. You can save the gif in the AVI format, which is the versatile file format supporting GIFs.
Save or Share the GIFs
GifCam is suitable for quick and efficient demonstrations that you want to share with your colleagues or others quickly. You can turn the footage into a gif in just a few seconds with just a few clicks, save it, or share it with others.
The whole process is quick and painless, and it only takes you a couple of seconds to complete the process.
Of course, you can also do some adjustments to the gifs you create, as you're able to trim them and make sure that only what you want to share is on the screen.
You can also record the movement of your cursor if you have something to demonstrate.
Conclusion
GifCam helps you turn screen footage into GIFs easily.