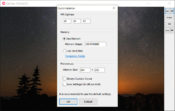 GifCam is an innovative tool that can work as a camera on your desktop for creating GIFs. You can adjust the window of the application just like the camera lens to resize the area to be considered for recording the GIF file.
If you are looking for a single frame GIF or if you want to record a video, in both cases, you can easily use this application. Additionally, you can save a lot of kilobytes of your space through the application as it uses transparent pixels for identifying the frames for the GIFs.
GifCam has been designed to enhance creative GIFs. You can use various other applications of your computer including Paint etc. to create extraordinary images, which can be turned into GIFs.
Editing a GIF file is also not an issue using this app. Clicking on the editing option provides you with the editing facility, and you can save the pre-editing and post-editing versions very quickly. You can get five different color options for saving your GIF too.
GifCam is a camera-like application that works on your computer for recording, editing and saving creative GIF files.