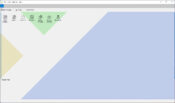 StylePix offers for free what other similar or even not-so-advanced solutions do. Enough is to mention the user interface that scores higher than most of these software apps will ever score, as it is unimaginably easy to use and elegantly designed.
Enhance and restore tools cover burn, dodge, blur, sharpen, saturate, and desaturate, and the text tools let you type and edit text on the canvas itself.
While enabling users to modify and personalize the text in numerous ways, the text tool supports many languages. Selection tools, layers, brushes, and styles remain highly precise and realistic.
And let's not forget about the built-in image viewer, which is incredibly intuitive and full of features, such as compare and edit tabs or slideshow.
StylePix features and benefits:
png, jpg, bmp, tif, gif, tga file formats are supported
Multiple files can be opened simultaneously
Multi-level undo-redo support, and action list display

Zoom in/out and the full-screen view and guides, rulers, grid support
Thumbnail, histogram and waveform view for current editing image
Auto-range, color-range, and rectangular, circular, polygonal, lasso area selection, and transformation options

20 kinds of blending modes

Color picker with HSV color model
Multi-layer and group support