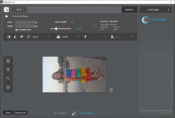 rEASYze is an image editing application to provide you with all the possible features that make your image look better.
It offers an intuitive dark-colored interface through which you can choose the desired tool. You can apply the filters to the images, add watermarks, and even change the format of your picture with great ease.
If you're looking for a simple way to resize your images and manage several aspects of your pictures, then it would be handy to have a software application for the task. There are many choices to go for, but not many would give you the additional features that come with rEASYze.
It comes with powerful image editing capabilities, such as editing several images simultaneously and performing actions with these images.
Resize, Rotate, Crop, Rename
As the application's name suggests, the app is easy to use and offers you the primary function of resizing the image to your liking.
You will be able to create new picture sizes with the photos, such as changing the dimensions of an image. All the pictures you edit will be saved in a specialized folder created later.
In addition to resizing, other functionalities are rotating, cropping, and renaming the images. These actions can all be performed quickly and easily without too many problems.
You can edit a photo with these simple tools, giving you more freedom regarding how your images would look, how they would be named, and more.
Portable App
The application is portable and lightweight, which is great news if you don't want to be bothered by installation.
At the same time, the application comes with an elegant and simple interface, which will make it easy for you to make the desired changes to the images you have. It has a dark-colored theme.
Conclusion
rEASYze is a simple and effective tool for resizing images and applying other effects to images, such as cropping, resizing, renaming, and other essential features that many users use.