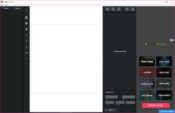 Custom graphic elements are always welcome. For anyone who works in tech or is a blogger who owns their blog, you need to know how to make custom graphics.
Nowadays, it's more accessible than ever, mainly thanks to the plethora of editing tools that allow you to create custom graphics.
One is Vectr, an intuitive and lightweight application that helps you craft unique and impressive graphical elements. These elements are outstanding because they will fit almost any project out there, no matter how big.
You can create a logo, icons, or even smaller design ideas, such as buttons and smaller icons.
Use the Drawing Tools
The application lets you use somewhat essential drawing tools, but these can be very valuable when creating custom elements.
First, before you use the app, you will need to create an account for the app. Then, you're welcomed by a modern, sleek, user-friendly interface.
The UI is relatively clean and involves some reasonably necessary tools for creating graphic elements.
At the top, you'll be able to use the app's drawing tools. Other functions include importing images, freehand drawing, adding text, changing colors, background, and the opacity of the images/graphics.
Save and Export Your Work
Once done with the work, you can save it and export it out of the tool. Then, you'll also be able to share your work with others.
You can export it to the PNG data format or save it in another format.
Conclusion
Vectr is an intuitive and lightweight tool for creating custom graphic elements that you can use on your website, blog, or other parts of your business.
Create the graphical elements you can use on your website, blog, business card, t-shirt, or other parts where graphic elements are welcome.