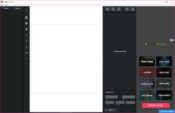 If you need to scale different graphic objects to be used for different purposes like commercial materials, clothes or applications you use Vectr. It can enable you to scale the graphics that you have created and convert them to different sizes so that you can use them in various projects.
You will have to make an account with this application, so you can start working on it. This account credentials can be used to enable synchronizing the content of this application on different devices and make the content accessible easily.
The interface of the application is modern and intuitive, but the number of tools provided by Vectr is not very broad to support every kind of functioning. You can use freehand drawing, the addition of texts, changing the opacity and background of your graphics as some of the tools available with this application.
You can easily, save share or export the edited files through this application. It can allow you to save files in PNG format and facilitates the drag and drop feature for sending the files.
Vectr is a graphical tool that can help you in scaling your graphics that need to be used in different projects.