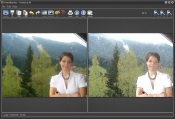 FotoSketcher is a free image editor with over 20 special effects and over 20 language packages. It is for you if you need artistically blended images but have no artistic skills.
All that is required is to hit a few clicks, choose the proper and desired effects for the picture in hand, and wait for the program to do its job. Old buildings, street life, or natural landscapes can be transformed into art in three simple steps: load the picture, choose the effect, and start the process.
Users can choose from the following styles: pencil sketcher, watercolor, oil/ pen/ ink drawings, cartoons, and many others.
Simple editing tools like contrast enhancers, sharpeners, luminosity, and saturation controls are also available.