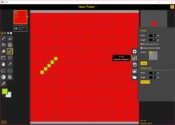 Piskel allows you to create sprites easily and seamlessly and preview them so you can export them and use them as animated GIFs.
If you're looking for a good tool to help you create and draw awesome sprites, then you can't go wrong with Piskel. It's a complete and comprehensive app with several powerful tools and layer manipulation systems.
You can draw sprites, create them, preview them, and share your best creations with your friends and the rest of the world.
Easy Navigation
The interface has three main areas for you to use: drawing, tools, and settings. It's a pretty simple UI that's standard to what we have nowadays with drawing tools. Fortunately, the navigation is as seamless and straightforward as it can be. It has a speedy setup, and then you'll need to customize the experience and tap into the settings.
You can use shortcuts to create with this tool to make navigation even faster and more comfortable.
You can assign key combinations to shortcuts, quickly accessing several tools and modes. You can set up your hotkeys in the tools panel and start taking advantage of this quickly.
A Variety of Drawing Tools
This tool has everything you need to create awesome sprites. Of course, it has the necessary drawing tools you would expect from an app like this.
But it also comes with various impressive tools for drawing, including the standard and vertical mirror pen, paint bucket, stroke, lasso tool, dithering, lighting utensils, and others.
Coloring is also very comprehensive here. You can easily pick the colors you want to use with the color picker. You will have several tools at your disposal to complete various projects.
Once you're done with your project, you can save your project and export it in different media types.
Conclusion
Piskel is an easy-to-use drawing tool that will help you create awesome sprites.