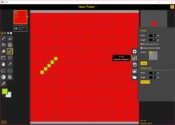 If drawing on the computer is a hobby or if you like working with colors, then Piskel is an application you will love. Various drawing tools are provided by this application to ensure that your creativity is reflected on the computer screen in the same way.
You can find all the colors and combination that you can think to provide you a rich drawing experience.
User-friendly and well-designed interface not only creates attention for the users but make it easy for them to find their desired tools and providing them an opportunity to discover the tools that can lead to a better result.
However, one of the problems in Piskel is that it does not provide the inbuilt help section. Additionally, it does not support any tutorials, which could have submitted the new user with a better view of the application in their initial usage. However, as discussed it is easy to use. Thus the opportunity of navigation and self-learning is quite high.
If you aim to put your creative ideas in the form of drawing on the computer screens, then using Piskel is the best option available because of its attractive interface and variety of tools and colors availability.