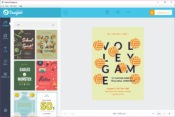 Do you have some know-how about designing? Or are you a beginner looking to design something? In both cases, this application has a solution for you. FotoJet Designer is an application that can support designing flyers, logos, pictures, and other graphical elements. You can easily use the images and designs as your social media posts or for business cover letters or headers.
Using this application is so simple that you don't have to be an expert to use the application or create a beautiful outcome. Only a few clicks with the tools available on this application can make you an expert.
You can find 900 different templates in many categories so that you won't have to spend additional time optimizing the look you are looking for. The exclusive templates are available in card, initiation, Facebook cover, and banner form. Apart from these heads, there are a few other categories as well. Moreover, you can even start designing from scratch without using these templates.
Moving, resizing, rotating, and cropping pictures or designs are among the application's features. FotoJet Designer also supports the design's personalization, providing you with the undo, redo, and layering options. They can help you sort out your designs in the best possible way.
You can share your pictures or designs directly on the social media forum. Additionally, you can also save it as a project if you need to work on it some other time. JPG and PNG are the supported output formats.
One of the limitations of this application is that you'll see the watermark on the output file if you choose not to go to the premium version.
FotoJet Designer is an application for creating and editing designs that can be used for social media posts, logos, cover letters, Facebook covers, etc.