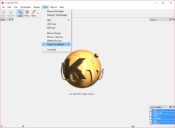 KLayout is a straightforward piece of software made to be as intuitive as possible to help you visualize and edit GDS and OASIS files easily.
GDS and OASIS are the most common formats for creating and editing files with geometrical shapes, text labels, and other relevant information. They will express electronic patterns for circuits and chipsets. But editing these requires you to have a suitable piece of software.
One of them is KLayout. This application is designed to give you an interface for editing and creating GDS and OASIS files as easily as possible.
It has an intuitive interface and all the relevant editing tools to help you achieve your goals. You can also build layouts by using the tools inside and creating GDS and OASIS files.
Streamline and Fast
It's easy to get started with KLayout. It will take you just a couple of minutes to set it up. Once you've set it up, you will see that this tool's main interface will greet you.
In the main window, you'll be able to see all of the main features that will probably be relevant to you so that you can get started easily.
Here is a short video tutorial you should check:
Viewing and Editing Functions
Viewing and editing files is the primary function of this application. It has a built-in layer configurator, enabling you to edit quickly. It will work with multiple layouts simultaneously, and you'll also be able to use various features that will get you started quickly.
You can view the fill patterns and colors, customize the animations, set up transparency levels, and more.
To edit your files, you'll be able to load and place PNG, JPG, and GIF files over your projects to create complete files.
All in all, you'll have a complete array of editing tools.
Conclusion
KLayout is an intuitive editor for GDS and OASIS files that will help you get started quickly.