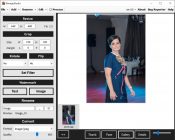 If you deal with batches of images frequently, you will know how repetitive and time-consuming it can be to rename, resize, or convert every image in your batch. Although several products exist to help cut down the time required to go through several batches of images and perform repetitive tasks, BImageStudio is perhaps one of its kind.
Unlike other batch image editing products, BImageStudio does not bury the fundamental functions behind endless menus, drop-down boxes, and window tabs but neatly arranges all of its functions in a handy and easy-to-use toolbar on the left-hand side of the application.
Another benefit of using BImageStudio to perform simple tasks on image batches is its ability to convert image files from one format to another on a bulk scale. When this operation is performed individually, the user has to open each image file in a program such as Microsoft Paint, re-save it in its new format and delete the old image file.
It is time-consuming, even when just one or two images are involved, making converting hundreds of images from one file format to another a nightmare! This app removes the need to open each image individually, and the program's inclusion of this feature gives it a substantial edge over its competitors.
This easy-to-use application's features rival some of the most expensive, top-of-the-line programs marketed by big software companies.
Save yourself the expense of investing in a costly batch image editor, and consider using BImageStudio for your batch image editing needs today!