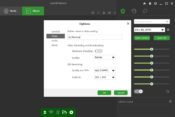 MyCam is a useful application that will allow you to take screenshots easily and record videos with your laptop camera with ease, regardless of which type of webcam you use or what Windows system you have.
The webcam on your laptop is one of the most useful features you can have if you're working remotely or want to communicate with others.
Having a high-quality webcam can be great when you have meetings or when you want to send footage from your webcam to other people.
To help you with those tasks, you will find MyCam useful. It is a simple application designed to help you take screenshots with your webcam, record videos with it, and use your webcam to its maximum potential.
It doesn't need to be installed and is very lightweight, making it appropriate for various laptops.
Portable and Lightweight
We need to mention MyCam is easy to use since you don't even install it on your system.
All you need to do is deploy it from your USB drive or the location on your computer where you have it stored. Then, you can take screenshots with the webcam and create videos.
Good For Various Tasks
One of the main ways people use this app is to create snapshots and send footage to others. It might be for work or leisure, but it has even more advanced usage if you know how to use it.
For instance, you can even use it to scan QR codes for live media streaming, record GIFs and videos, and much more. It also allows you to create albums and send content to your mobile device.
It's intuitive to use and has many great functions that most laptop users will love.
Conclusion
MyCam is a useful app for your webcam, in which you can take screenshots, record videos, and perform other tasks with it.