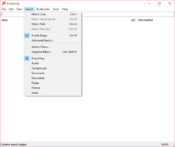 Are you having difficulties finding and organizing your files? Then you can use Everything, which is a user-friendly tool for managing your files and making sure they're easy to find.
Finding your files is not an easy task when you have many files on your computer. It can seem a baffling task when you have them unorganized and not very well thought through, and you'll need to make sure they are organized whenever you want to find them.
But having a nice tool to help you with that would certainly help.
Everything is a user-friendly tool with a minimalistic interface that will help you find your files by using its configuration options and applying a variety of filters, which will help you find files instantly. One of the biggest appeals for this tool is its speed, as it will allow you to find your files in an instant.
Fast and Reliable
When you're searching for files with Windows Explorer, one of the main issues is that the search will take a very long time when the search is big. But not with Everything.
This tool was designed to give you instant results without waiting for the search to be complete. It achieves that by automatically indexing drives, which makes the search function faster.
Simple Tool with Advanced Configurations
It was designed to be as user-friendly as possible, but you should also know that it has some neat and powerful tools inside. Before you start using it, you'd want to configure it to identify your drives correctly.
You will need to index your NTFS drives first and opt to run it at every Windows start-up, which you can disable.
Other advanced functions allow you to find your files instantly, such as multiple opening instances, advanced filters where you can specify your search in a lot of details, and more.
Conclusion
Everything is an excellent app to own when you need to manage your files and find them easily. It works fast, and it has a simple user interface with advanced tools.