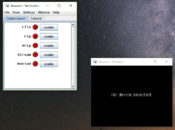 Everyone likes to use their webcam to chat with their friends or family, but it can turn out to be a harder job for you to handle your webcam the way you want. That is the reason why you need a tool so that you have additional features that are going to be useful when you use your webcam.
Yawcam is a perfect choice for you and thanks to it, your friends and your family can see what you are doing, and you can even set up some additional functions, so everything goes well while you are streaming.
Thanks to this app, you can send the users that are watching you a custom URL to be sure that only the right persons are watching you.
The motion detection feature is available and can be taken into consideration. It means that your webcam can also be used as a surveillance one and if something moves, it automatically takes a picture and sends them to you.
Yawcam features and benefits:
Video streaming and image snapshots
Motion detection
Upload via ftp
Text and image overlays
Password protection
Built in scheduler
Time lapse movies