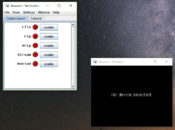 Enhance your webcam's performance using Yawcam, a simple application designed to help you add more features to your webcam, such as broadcasting, password protection, and more.
When you have a good webcam, it's always important to use the right angles and techniques to help you get the best out of it.
However, if you want to use even more features, you can use an application like Yawcam. With it, you'll be able to broadcast your footage, protect it with passwords, and detect motion, too.
Share Your Webcam
One of the primary functions that many users adore is broadcasting your webcam footage to other users.
This way, communicating with your friends and showing them your footage has never been easier, and it also enables you to stream to the world. Sharing has never been easier than with Yawcam.
You can do this by sending a custom URL address to your friends or everyone you want to ensure they see your stream.
The viewers will have various options while watching the video, such as adjusting the refresh rate and the FPS of the broadcast. Of course, you can always protect your broadcast with a password to ensure nobody unwarranted sees it.
Broadcast Easily
To broadcast your webcam footage, you'll have several options regarding your preferences. You can easily stream your footage using HTTP, although many users opt for FTP or streams to make it easier for some users.
Another feature to mention is motion detection, which might be useful for some users. This feature lets you take screenshots when a certain movement has been detected.
It is an automated technique that might help you take screenshots where you don't have the time to react and take screenshots of the footage.
Conclusion
To conclude, Yawcam can be highly valuable to users who want to get more out of their webcams. It's great for broadcasting and streaming your footage.
Yawcam features and benefits:
Video streaming and image snapshots
Motion detection
Upload via ftp
Text and image overlays
Password protection
Built in scheduler
Time lapse movies