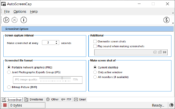 Take screenshots automatically at your selected times with AutoScreenCap, which will automate the screenshotting process for you and make it easy to capture several screenshots exactly when you want.
The premise of AutoScreenCap is simple: it's a relatively lightweight app that doesn't have many additional features, and its main purpose is to help you take screenshots at your preferred times.
You can specify the target time when the screenshots should be taken, the number of screenshots, the save location, and more.
Intuitive and Lightweight
This application should be easy enough to use even if you don't have too much experience with your computer. You'll see that the app's main window is lightweight, and it won't make it too hard for you to get started with the screenshotting.
There are some configuration settings that you can use to take screenshots automatically.
The app will run in the system tray unless you decide to open the configuration window. In this window, you can configure various things about when the screenshots are to be taken, when they should be taken, where you want them to be saved, and more.
It's all done easily and with minimal effort and knowledge.
Export Screenshots
To begin with the screenshotting process, you will first need to define the screenshots' times, and what part of the screen you want the screenshot to be taken, the save location of the shots you make, and more.
Then, you will see that once screenshots are taken, the files created will be saved as JPG files. You can set the quality of the JPG files that are exported so that you can make sure you get the quality of the screenshots right.
Conclusion
AutoScreenCap is an intuitive application for taking screenshots automatically. You will set all the configurations to take the screenshots whenever you want and save them anywhere on your computer in an easy manner.